For rental periods of 7 days or longer we offer a free collection and delivery service to Larnaca Airport between 08.00 and 20.00 hours.
So no waiting, no minibuses to remote parking lots and no queues, just personal service.
Out with these hours we can arrange for Larnaca Taxi Associates to meet you. They will not levy their usual night time surcharge for bookings made through us.
Our prices are all inclusive with no hidden extras. What we quote is all you'll pay.
For rental periods of 7 days or longer, pre-book your car 30 days or more in advance and we guarantee to beat our online prices.**
** For reduced price longer term prearranged rentals we will require a deposit at the time of booking. We only accept payment by PayPal or bank transfer.
Ours is a family owned business that we established in 1987 when we returned from Africa. There we had or own road haulage company however after 30 years in that business, we decided to put our expertise to use running a fleet of rental cars. We are proud of the fact that we are now one of the largest independent car hire firms in Larnaca.
One reason for our success is our total commitment to the safety and satisfaction of our customers. It is the essence of our business. We never compromise on parts, we never cut corners and we never accept second best, so you can be certain that you will always receive a clean, properly serviced vehicle that is in first class mechanical condition. Furthermore, in the very unlikely event of a call out, one of the family will take care of it personally.
Should you chose to rent a car for one week or longer, we'll be happy to meet you as you leave the arrivals area of Larnaca Airport and hand over the keys to your hire car either at the airport or, if you'd prefer, we'll drive you to your hotel in your car and hand over there. This service is free during office hours (08.00 to 20.00 hrs) with a very low charge outwith these hours – details on request.
We appreciate that many customers only want to rent a vehicle for a few days during their visit to Cyprus and we're equally happy to arrange for a trustworthy taxi to meet you at Larnaca airport and deliver you to your hotel, or any destination on the island without any night time or weekend surcharges.
We can also arrange for an age appropriate child seat(s) to be fitted for bookings made 24 or more hours in advance. The standard taxi takes four adults, however we can arrange for an 8 seater taxi at the same rates. No kickbacks, no premiums and no hidden extras, you only pay the standard meter rates.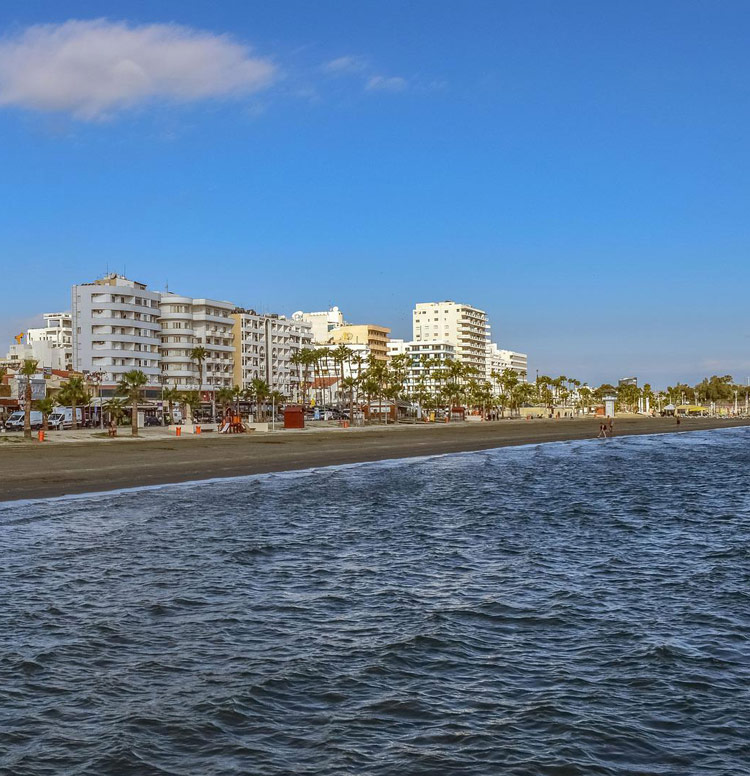 Our offices are located on the Larnaca Dhekelia Road at the center of Larnaca Bay tourist area. The Mariandy Hotel is 400 meters from our offices, the Palm Beach Hotel and the Aris Hotel are a five minute stroll, while the Frixos Hotel occupies the plot adjoining our premises.
Pyla and Oroklini villages are a couple of kms inland and the British Forces Base Dhekelia is about 4 kms to the East. All hotels in Larnaca are within a 10 to 15 minute drive of our office and Larnaca Airport is a comfortable 15 minute journey using the motorway.

We pride ourselves on the fact that about 60% of our custom is repeat business and word of mouth. We don't have the resources of the large car rental companies in Cyprus, however what we may lack in terms of advertising, uniformed staff and an airport kiosk, we try to make up for with a straightforward all inclusive value for money deal to suit any budget.
We never try to confuse you with clauses, extras and so on. Our contracts are in plain English and the price you see is all you'll pay.
Call or e-mail us, preferably giving as much notice as possible as we frequently offer special deals with our cars that we only advertise locally. We speak

Greek,

English and

French fluently and will be happy to answer any questions.